"SAFARI TYPO SIGNE"


TRAVAIL D'EDITION



HEAD — GENEVE
L'exercice du «Safari Typo» consistait en le choix d'un
thème libre. Le thème que j'ai choisi était les banques, du fait que Genève est une ville où l'on trouve énormément de banques.

Puis d'effectuer une sorte de safari en prenant des photos des enseignes des banques et dans un deuxième temps, d'analyse ces enseignes/logos d'un point de vue typographique.

Pour rendre l'édition attrayante, j'ai choisi de jouer la carte du safari jusqu'au bout en utilisant un pattern «zébré» sur la couverture et à l'intérieur du petit livret. J'ai également choisi la couleur verte qui est non sans rappeler celle de l'argent dans la culture vernaculaire.

Exercice réalisé dans le cadre du cours de Michel Wlassikoff, historien du graphisme.
HEAD—Genève:
www.hesge.ch/head/
"Safari Typo's" exercise consisted of choosing a free theme to work on it. I choose to work on banks as Geneva is a city where we find a lot of banks.


Then we had to do a kind of safari and during it, take some pictures of banks signs and in a second time to analyze these signs/logos with a typographical point of view.


To make the edition a bit sexy, I choose to play the "safari card" til the end by using a zebra pattern on the cover and inside the book/edition. I choose green as main color as it reminds money in vernacular culture.

Exercise done during Michel Wlassikoff's class which is a graphic design historian.


HEAD—Genève:
www.hesge.ch/head/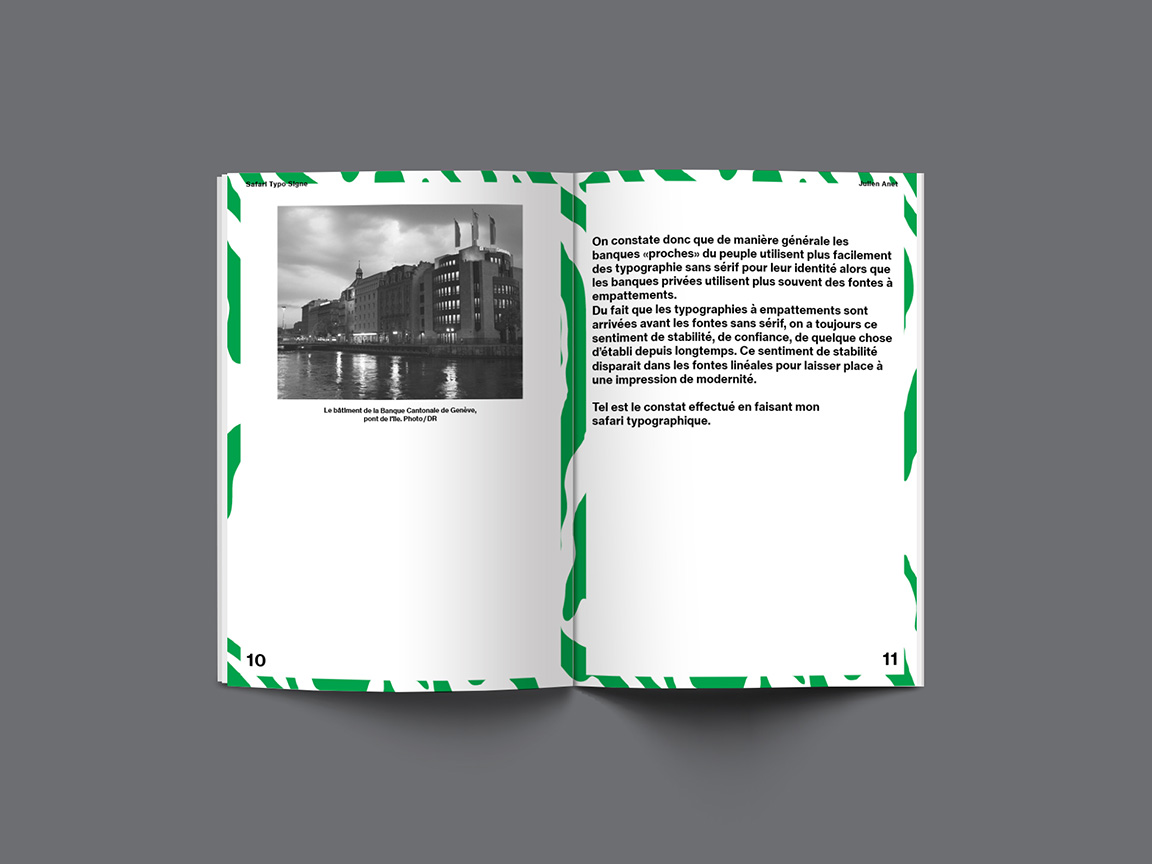 © JULIEN ANET 2015